I've been reflecting on why I use Cashculator, and what immediately drew me to it. It was the reconciliation section. I think this single view of my finances gave me the most in-your-face awareness of the impact financial choices I made had over time.
I would love to see this kept almost as is.
I don't really see a huge amount of value in simple repeating the Income table and Expenses tables on this sheet. I do see huge value in seeing if the green line dips below the red line, and the way my balance moves over time.
How I think you could make this better is:
Put the Reconciliation line chart and Budget area chart back in
Make the Income and Expense lines in the reconciliation table expandable / collapsable so that the user can see their expenses or income groups and categories by expanding these two rows directly in the reconciliation table
Bonus Option: allow the user to mute individual income or expense groups/categories in the reconciliation table (like with an eyeball icon, similar to in UI design tools that can show/hide a UI element) and see the effect on the reconciliation charts. Also carry this option through onto the main Income and Expense tables
i.e., a quick mock up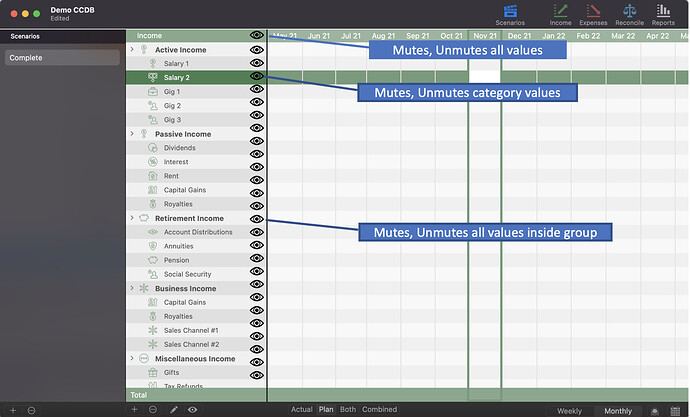 and