Starting with version 3.8, Trickster added support for integration with DEVONthink, a popular and powerful personal information manager for Mac, from DEVONtechnologies.
A special Smart Rule for DEVONthink (download below) will notify Trickster of files that you browse in DEVONthink. You can customize the conditions of the Smart Rule to only apply to databases or files that you want Trickster to track. The files that Trickster receives through DEVONthink will show their path with a DEVONthink icon and relative location in its database, like in this screenshot below (if you want to display the database name, too, download the alternative script at the bottom of this post):

Hitting Enter or double-clicking to open a file that came from DEVONthink will open the file back in DEVONthink.
Download the Smart Rules by clicking on the icon below. Then double-click the downloaded rule file to open it in DEVONthink.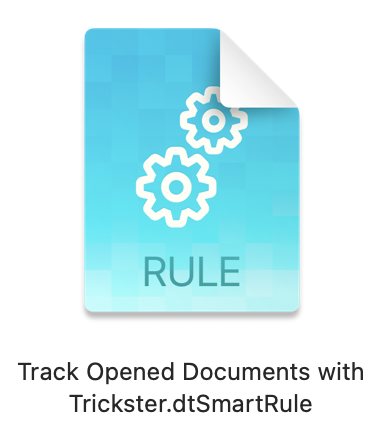 The Smart Rules will then appear in DEVONthink's sidebar in the Smart Rules section, like this:


You can then double-click on it if you want to narrow down the activation of the rules to some condition.
Note: Files added through DEVONthink bypass the regular filtering of Trickster's File Tracking Settings. This means that you don't need to add folders where these files are located to Watched folders for them to appear. But if you want Trickster to show its preview, you need do include the folder of your DEVONthink database in Watched Folders.
Here's a video walkthrough of setting up the integration and how it works:
---
UPDATED July 12, 2021:
Here's a modified version of the original integration script (courtesy of @DEVONtech_Jim (post), which I just restyled) which also shows the database name in Trickster, at the start of the path. I chose to show the database name in like [database] but you can edit the script to restyle it. Download by clicking on the link.

Here's what it looks like in Trickster: