Each item (or set of selected items) in the Trickster recent files list has a pop-up menu, accessible by either right-clicking on it or by clicking on a gear-wheel icon located on the right of that item, or hitting ⌘M:

The menu is customized for that particular entry if activated through the icon) or for all selected files, if multiple rows are selected and the menu is invoked using the right mouse button or the keyboard shortcut.
The usually includes a large number of useful commands, including exposing this item to OS X Services, so we recommend that power users especially check it out: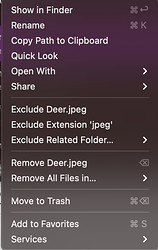 Example of file pop-up menu
"Remove" actions will only remove the selected files (or folders of files) from Trickster's list. The files on disk will not be affected in any way.
"Exclude" commands will automatically add exclusion rules to File Tracking settings.